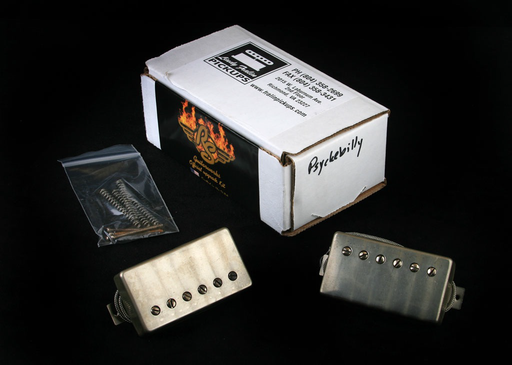 Psychebilly Blues Humbucker Set
---
These pickups are copies of the real PAF's in Greg Martin's 1958 Les Paul®. His guitar and it's pickups are nothing short of amazing. Our copies are wound by Lindy Fralin and are exact down to the magnetic strength; the Psychebilly's are un-potted, and have Alnico II magnets. They are the best low-power "PAF" on the market. The Bridge pickup reads 7.7K, the Neck pickup reads 7.8K. Like Greg says, "While my PAF's may not be the loudest, they'll knock down any outhouse in a mile radius!" These pickups are the only way to go if you want that Pure Kentucky Tone.
The lead-time for the Psychebilly's are 6-9 weeks. If you are ordering with other items, be aware that the pickups may ship separately.
When you have decided on the model and specifications of your dream guitar or bass, you can either place the order online, or call us to discuss any details or specific questions/requests. Once your build has been finalized, a minimum of a 50% deposit is required to start the build.  If you've purchased the guitar outright from us – this deposit does not apply. 
From the time you have placed your order or deposit, you have two weeks to make any changes. After that, all specifications are final. Actual build time is based on the exact options chosen, but typically our build time is about four months.
Month 1
Choose your model and options. After determining what you want and you have either placed your order online or confirmed options with us, your deposit will be due.
After the deposit is made, you will have two weeks to make any changes.


Once the all details have been finalized, all preliminary woodworking is started.


Necks are fretted and final shaped. Body is finish sanded and prepped for paint.
All necessary parts/hardware are ordered.
Month 2
Body and neck go to paint. This stage can take several weeks to properly apply lacquer depending on color and aging level. 
Due to the nature of nitrocellulose lacquer, the guitars are allowed to cure for four weeks.
Month 3
In the middle of month 3 the bodies and necks, once completely dry, come out of the booth for wet sanding and buffing. 
Depending on the level of aging requested, the body, neck and all hardware are put in the aging process.
Month 4
Frets are leveled and crowned. The nut is cut. 
After all appropriate aging is complete the guitar will go into final assembly. 
After final assembly, we allow a minimum of one week for the guitar to acclimate before we perform the final setup. 
When everything is completed, you will be contacted to pay the balance and submit any final details in regards to shipping.
When you receive your guitar or bass, you have 2 days to contact us with any concerns you might have. We strive for 100% satisfaction, so any issues or concerns you may have will be addressed promptly. All of our instruments come with a lifetime warranty to the original owner.